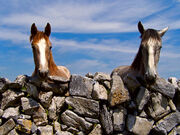 Before editing on the wiki, you need to read this:
Rule N°1: Admins and Bureaucrats can only edit the main page and add rules to this wiki.
Rule N°2: Do not vandalize the pages with cursing, inappropriate images, etc. because you will get blocked.
Rule N°3: Do not create a page about something that does not exist because it will be deleted and you will get blocked.
Rule N°4: Do not put anything that is not related to horses or its stuff on content pages or create a nonsense page that is nothing about horses because you will get blocked.
Rule N°5: Do not edit others user pages because you will get blocked.
Rule N°6: You can also put drawings, scans or photos of books or parts of it or paintings that is only related to horses or it's stuff.
Rule N°7: Do not create another page that has similar information of a other page because it will confuse the others between pages and will cause the new page redirected to the original page.
Rule N°8: You may use the following categories on pages:
Breed
Color
Equine Sports
Horse Care
Riding
Miscellaneous

If in a page is marked on a category that doesn't exist in the list above, the category will be removed from the page and warned. If it continues, you will be blocked.
Rule N°9: You need to login before contributing the wiki because two anonymous have made two pages that are deleted and they has gone blocked because breaking rule n°4. You must be 13 or older to contribute this page because of the COPA, COPPA and CIPA federal laws. If you are 12 or less years and you are contributed, blocked until you turn 13 years old.
Rule N°10: When commenting do not post memes or fads because it will ruin the image list and it will be hard to find important images. If the rule beaked, warning. If it happens again, blocked.
MORE RULES COMING SOON
Ad blocker interference detected!
Wikia is a free-to-use site that makes money from advertising. We have a modified experience for viewers using ad blockers

Wikia is not accessible if you've made further modifications. Remove the custom ad blocker rule(s) and the page will load as expected.