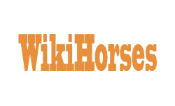 Wikihorses is an online wiki-based encyclopedia of horses and horse-related topics that was founded by Swannie on May 18th, 2007, and adopted by EinsteinBlllllllllll between October and November of 2016. Many topics can be covered here, including: horse breeds, tack, riding, places, history, and much more. Also, "how-to" articles and opinions are very welcome. This can also be a place to give advice about horse-related things such as riding and training. You can go to the Advice Forum to share your thoughts and ask questions.
If you need any help, feel free to ask an administrator. You can find a list of administrators at Special:Listusers/sysop. Another place to go for help is the Community Portal.
Thank you for visiting Wikihorses, and all of us here hope you stay with us and contribute!
---
Basic information about this project is also available at Wikia:Horses.
Ad blocker interference detected!
Wikia is a free-to-use site that makes money from advertising. We have a modified experience for viewers using ad blockers

Wikia is not accessible if you've made further modifications. Remove the custom ad blocker rule(s) and the page will load as expected.