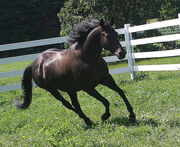 A quarter horse is breed for short distance racing. They can be from 14-17 hands, but growing as tall as 17 hands is rare. They are known by their short and refined head. There are two types of this horse: stock and racing. Racing Quarter Horses resemble Thoroughbreds in many ways. Stock types are well muscled, but shorter.They are usally sorrel ("blonde") in colour but they can be in many different colours such as bay or black.
They are also known as palominos or steeldusts. They are named quarter horses because they are well known for racing high speed for a quarter of a mile. A famous quarter horse is "Smart chic Olena" and his offspring won a total of $11 milion dollars. "Smart chic Olena" was 2nd all time cutting champion.
Quarter horses have been originated in America. Not only are they great at running races, they are wonderful jumpers as well. Quarter horses come in all different colors.
Fun Facts
Quarter Horses can run 1/4 of a mile faster than any other breed.
Ad blocker interference detected!
Wikia is a free-to-use site that makes money from advertising. We have a modified experience for viewers using ad blockers

Wikia is not accessible if you've made further modifications. Remove the custom ad blocker rule(s) and the page will load as expected.