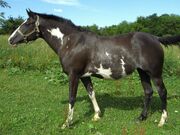 In British English 
piebald
 (black and white) and 
skewbald
 (white and any colour other than black) are together known as 
coloured
. In North American English, the term for this colouring pattern is pinto, with the specialized term "paint" referring specifically to a breed of horse with American Quarter Horse or Thoroughbred bloodlines in addition to being spotted, whereas 
pinto
 refers to a spotted horse of any breed. In American usage, horse enthusiasts usually do not use the term "piebald," but rather describe the colour shade of a pinto literally with terms such as "black and white" for a piebald, "brown and white," or "bay and white," for skewbalds, or color-specific modifiers such as "bay pinto", "sorrel pinto," "buckskin pinto," and such.
Genetically, a piebald horse begins with a black base coat colour, and then the horse also has an allele for one of three basic spotting patterns overlaying the base colour. The most common coloured spotting pattern is called tobiano, and is a dominant gene. Tobiano creates spots that are large and rounded, usually with a somewhat vertical orientation, with white that usually crosses the back of the horse, white on the legs, with the head mostly dark. Three less common spotting genesare the sabino, frame and splash overo genes, which create various patterns that are mostly dark, with jagged spotting, often with a horizontal orientation, white on the head. The frame variant has dark or minimally marked legs. The sabino pattern can be very minimal, usually adding white that runs up the legs onto the belly or flanks, with "lacy" or roaning at the edge of the white, plus white on the head that either extends past the eye, over the chin, or both. The genetics of overo and sabino are not yet fully understood, but they can appear in the offspring of two solid-coloured parents, whereas a tobiano must always have at least one tobiano parent.
Ad blocker interference detected!
Wikia is a free-to-use site that makes money from advertising. We have a modified experience for viewers using ad blockers

Wikia is not accessible if you've made further modifications. Remove the custom ad blocker rule(s) and the page will load as expected.