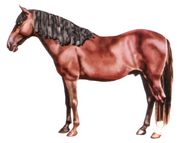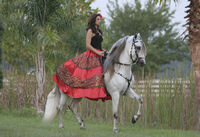 It originated from Puerto Rico and is famous for its passage. Extremely fancy and refined, it is generally tame and easy to handle. It has fixed characteristics, small head, alert ears, medium long body, fine and firm legs, mane and long tail and meek.
Movement
The horse when projecting forward, move the legs on the same side, defining the movement as lateral. The movement of the horse although very fast is smooth at the same time.
Ad blocker interference detected!
Wikia is a free-to-use site that makes money from advertising. We have a modified experience for viewers using ad blockers

Wikia is not accessible if you've made further modifications. Remove the custom ad blocker rule(s) and the page will load as expected.