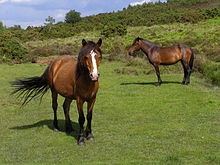 A versatile and good-natured pony, the New Forest is the ultimate all-rounder. With quality from various crossings made throughout it's history, this pony is a hardy survivor that is well adapted to the challenges of living free in the forest. It's natural athleticism and adaptability mean that it is as happy in the show ring as show jumping and can be seen excelling in many spheres.
Ad blocker interference detected!
Wikia is a free-to-use site that makes money from advertising. We have a modified experience for viewers using ad blockers

Wikia is not accessible if you've made further modifications. Remove the custom ad blocker rule(s) and the page will load as expected.