Lipizzan horses are famous for their 'Airs' which contains difficult dressage movements.
Origin
This breed dates back to the 16th century.
Movements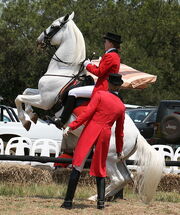 The Croupade and Ballotade
The Lipizzan horse would raise up, only standing on his hind legs, then he would make a leap in the air and strech his hind legs out (they don't kick out),
the horse will then lower its forefeet to the ground before rising again on hindquarters.
The Lipizzan, is a breed of horse closely associated with the Spanish Riding School, they perform movements of classical dressage, including the highly controlled, stylized jumps and other movements.
They are also used in many shows, and have been in many movies including Disney movies.
Ad blocker interference detected!
Wikia is a free-to-use site that makes money from advertising. We have a modified experience for viewers using ad blockers

Wikia is not accessible if you've made further modifications. Remove the custom ad blocker rule(s) and the page will load as expected.