The Kentucky Derby is one of the most famous races in the U.S.A. The breed used in this race is the Thoroughbred.
The 2011 Kentucky Oaks and Kentucky Derby will take place on May 6th and May 7th, respectively, at Churchill Downs in Louisville, Kentucky. The winner receives a rose blanket.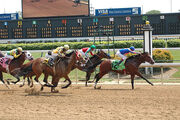 Ad blocker interference detected!
Wikia is a free-to-use site that makes money from advertising. We have a modified experience for viewers using ad blockers

Wikia is not accessible if you've made further modifications. Remove the custom ad blocker rule(s) and the page will load as expected.