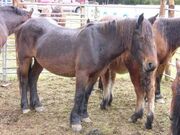 The Jaca Navarra (Basque: Nafarroako zaldiko) or Navarrese Horse, is a breed of small horse from the Navarre region of Northern spain. The total population of the Jaca Navarra has been variously estimated at 350 (in 1999), 250 (in 2000), and 240 and decreasing (in 1997). In April 2011 the total population was reported to be 899, all of which were in Navarre. The breed is listed by the FAQ as Endangered. The Asociación de Criadores de Ganado Equino Jaca Navarra is the head of the initiative to preserve the Jaca Navarra and promoting its survival.
Ad blocker interference detected!
Wikia is a free-to-use site that makes money from advertising. We have a modified experience for viewers using ad blockers

Wikia is not accessible if you've made further modifications. Remove the custom ad blocker rule(s) and the page will load as expected.