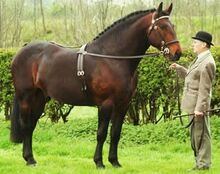 Although one of the oldest pure British breeds, the Cleveland Bay has achieved fame for its ability to cross with other breeds adding bone, size and stamina to lighter animals. Unfortunately, this caused the number of pure breed horses to fall dramatically but the breed is now valued again in its own right. The show ring has played a large part in its revival.
Ad blocker interference detected!
Wikia is a free-to-use site that makes money from advertising. We have a modified experience for viewers using ad blockers

Wikia is not accessible if you've made further modifications. Remove the custom ad blocker rule(s) and the page will load as expected.