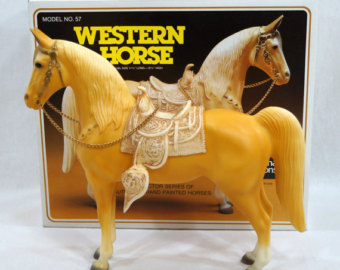 Breyer model horses are a division of Reeves International, Inc. and their first horse debut in 1950 as the #57 Western Horse. [1]
Production Process
Each horse is cast in a two to three piece mold. Both halves are then put together and the seams are sanded and polished. Markings and color patterns are usually obtained by using a stencil known as a mask, although most older models were airbrushed by hand, with markings such as undefined socks or a bald face merely left unpainted. Most detailing, such as eye-whites (common on 1950s and 1960s models and is now enjoying a resurgence in modern models), brands, or other individual markings are painstakingly hand-painted. Sometimes, a variation in the paint job occurs. A variation is a difference, usually in the paint job, of one or a minority of a model as they came from the factory. The reason for variations is rarely known. For example, there is a common mold typically called the Proud Arabian Stallion (abbreviated PAS by collectors). For many years it was produced by Breyer with a dappled gray coat and a gray mane, tail and hooves. However, for some unknown reason a few of these models came from the factory with black manes, tails, and hooves, and black socks or stockings. These special, rare models are considered variations of the Dapple Grey PAS model and are very valuable compared to the regular model, which is quite common.
Ad blocker interference detected!
Wikia is a free-to-use site that makes money from advertising. We have a modified experience for viewers using ad blockers

Wikia is not accessible if you've made further modifications. Remove the custom ad blocker rule(s) and the page will load as expected.